Wedding Reception Venues Detroit
There are so many amazing wedding reception venues in Detroit, and when you're planning your big day it can seem very overwhelming! There are many sites out there that try to list every single venue in existence, but we feel that only adds to the complexity of your decision!
We have visited several wonderful wedding reception venues in Detroit, and on this page we will share with you our top choices. The ones that really stand out in our minds as being memorable and elegant. The reception venues that really lend a special ambiance to this once in a lifetime occasion!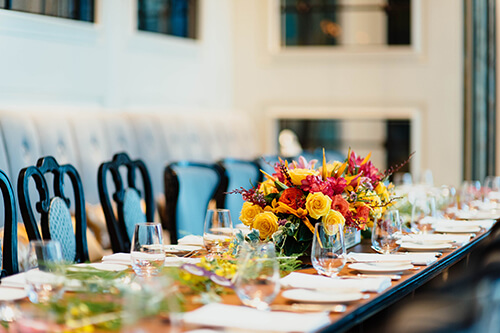 We hope you enjoy learning about these beautiful wedding reception halls, and be sure to write down the addresses and phone numbers of the ones that you want to contact later. Here they are:
STONE CREEK BANQUET CENTER of Flat Rock is the newest addition to the downriver selection of wedding reception venues, and we simply love it. Its decor includes a lot of natural light streaming through the windows in the daytime and plenty of recessed lighting and chandeliers for the evening. The catering for Stone Creek is provided by Truly Gourmet Catering, and it is simply exquisite. The best thing about this venue would have to be the beautiful wetlands and trees that surround it. If you love a rustic lodge setting, yet a very elegant and classy interior for your reception, you will adore Stone Creek Banquet Center. Found at 1 Maguire Street in Flat Rock, and reachable by phone at (734) 379-1453.
MEADOW BROOK HALL AT OAKLAND UNIVERSITY is a truly historic place to hold your wedding reception, and it's doubly romantic if you and your sweetheart happened to go to school at Oakland University together! This venue can only be described as an American castle, and it has gorgeous gardens and a really beautiful ballroom. The dining here is truly exquisite, and the package includes setup and cleanup so you don't have to worry about a thing. We especially love the garden for the wedding ceremony itself. They offer wedding coordinator service here as well, so you can really relax and leave all the planning to the experts. You can find Meadow Brook Hall at Oakland University at 2200 North Squirrel Road in Rochester, and you can reach them by phone at (248) 370-2100.
MOTORCITY CASINO HOTEL of Detroit is the perfect place for the modern couples of today to celebrate their nuptials. The catering is provided, and the benefits here include a spacious dance floor and great bar service. They have linens and tableware available here, as well as the tables and chairs, so you don't have to go elsewhere for those rentals. You'll be able to take advantage of the lounge and the spa, and of course those exquisitely elegant suites. The valet parking is a major plus too. They can easily accommodate more than 400 guests here, so even the largest weddings will feel just perfect in this space. Everything is handicapped accessible too. You can find MotorCity Casino Hotel at 2901 Grand River Avenue in Detroit, and they can be reached by phone at (866) 782-9622.
We hope that you'll enjoy those Detroit wedding reception venues as much as we have! We can't think of any better places to celebrate your special day with your new spouse and loved ones. You can click here to continue to our Wedding Reception Catering page, or use the bars at the top and bottom of the page to click through the other pages.