Indoor & Outdoor Wedding Venues Detroit
Outdoor weddings are one of the trendiest and yet most classic ways to celebrate your nuptials. There's nothing else quite like saying those vows while surrounded by nature's bounty. The photos of the wedding are of course more vibrant and unique when the wedding is outdoors.
The venues below can of course accommodate indoor weddings as well, so if it happens to rain on the day of your ceremony, it's a simple matter of bringing it indoors.
Rather than trying to compile an exhaustive list of all the outdoor wedding venues in Detroit, we decided to share with you the ones that we have personally been to, and the ones that we feel are the very best. We hope that one of these will be the perfect choice for you!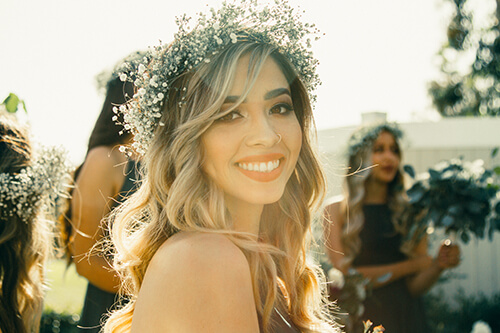 MEADOW BROOK HALL AT OAKLAND UNIVERSITY is also mentioned on the next page as a wedding reception venue, because it of course can double as a wedding venue and reception venue, or one or the other! But we absolutely love this place for the ceremony itself, because they have an exquisite garden. Here you can say your vows in front of all your loved ones, right there with all the beauty of nature smiling at you. You can take advantage of their wedding coordinators too, which is a luxury that we highly recommend. If you do decide to have your reception here, they have a truly elegant ballroom that you'll really enjoy. The property has been described as an American castle, and we can't think of better words for it. Very highly recommended. You'll find Meadow Brook Hall at Oakland University at 2200 North Squirrel Road in Rochester, and you can reach them by telephone at (248) 370-2100.
INFINITY & OVATION YACHT CHARTERS is probably our favorite choice for an outdoor wedding package. The riverfront view is superb, and the experience is unlike any other in the Metro Detroit area. They offer wedding planners to make your day as perfect as it can be, and they have a wide array of partners who are ready to provide services to you, including floral arrangements, entertainment, linens, photography and videography, and more. They have many different packages to fit any budget and schedule. They base their packages on 75 guests, and the actual capacity of the Infinity Yacht is 145 guests. It can't get any easier than their all-inclusive event packages. Their corporate offices are located at 400 Maple Park Boulevard, Suite 404, in St Clair Shores. You can reach them by phone at (586) 778-7030.
TINA'S COUNTRY HOUSE AND GARDENS is a really romantic choice for your outdoor wedding venue. Their gardens are some of the most beautifully manicured that we have ever seen, and their full service banquet facility is the perfect spot to gather with your loved ones to celebrate the most special day of your life. This gorgeous wedding venue has been in operation for more than thirty years, so you know that they are really the most expert at w what they do. Your wedding photographs will be as memorable as can be when taken in their gorgeous floral gardens. Choosing spring, summer, or fall for that memorable outdoor wedding will allow you to customize nature's decor! You can find Tina's Country House and Gardens at 50828 North Avenue in Macomb Township, and you can reach them by phone at (586) 949-2280.
We hope that one of these outdoor wedding venues will please you as much as they all please us! Again, we have attended weddings at each of those, and they have all provided a truly memorable experience for everyone who attended.
Before you move on from this page, be sure to write down the names and numbers of the venues that you would like to contact. Simply click here to continue to our Wedding Reception Venues Detroit page, or use the menus at the top and bottom of the page to skip around.