Transportation for Weddings in Detroit
There are certainly a lot of choices for transportation for weddings in Detroit, but after attending many, many weddings in recent years, a clear favorite has emerged in our minds.
Party Bus Detroit is the only one that provides a truly unique experience along with world class service. They're licensed and insured, with real chauffeurs rather than just drivers, and their buses are equipped with all kinds of hi-tech delights to enjoy while you're on the road!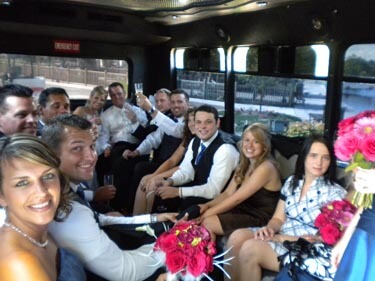 They have special wedding packages that include three and a half hours of service, a red carpet, a cute "just married" sign and the inclusion of the happy couple's names on the vehicle... plus a couple of bottles of champagne, ice and cups, and bottled water to keep you hydrated on your big day!
They have a special deal if you book your bachelor or bachelorette party package at the same time, giving you an extra hour of service free.
If you'd like to view the current costs of wedding packages as well as further detailed information on this excellent party bus company, you can head over to PartyBusDetroit.com right now! We recommend them very highly. Here is their contact information:
Party Bus Detroit
20759 Sunnydale #2
Farmington Hills MI 48336
(248) 630-5605